Donald Harrison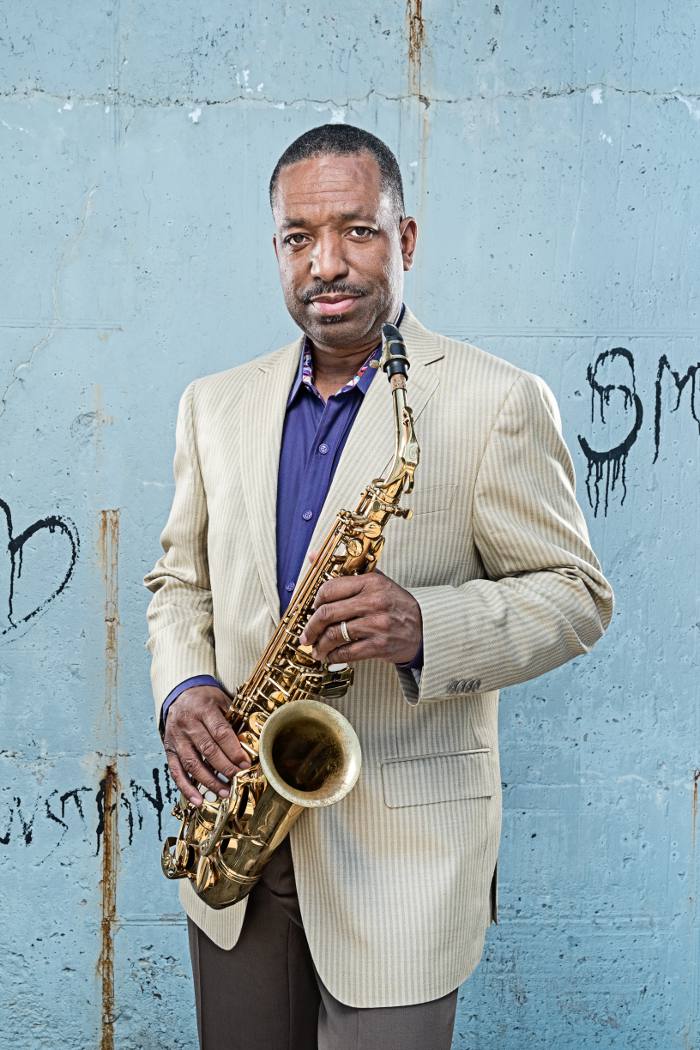 Donald was born in New Orleans in 1960 and grew up in a home environment saturated with the city's traditional music of brass bands, parades, modern Jazz, R&B, Funk, Classical, World and Dance music. His connection to New Orleans roots were deepened by his father, a Big Chief, in a new style of African culture developed New Orleans. The culture is an offshoot culture of Congo Square, one of the only known places in North America where Africans openly participated in their culture in the 18th and 19th centuries and has incorporated some aspects of Native American culture as well. Donald himself became the Big Chief of The Congo Square Nation Afro-New Orleans cultural group in 1999 and coined the term Afro-New Orleans. He built the first costume that merges East, West and Central African designs with Afro-New Orleans style cultural designs.
Donald also created "Nouveau Swing," a style of jazz that merges it with modern dance music like R&B, Hip-Hop, Soul and Rock. He also combined jazz with Afro-New Orleans traditional music on his critically acclaimed albums "Indian Blues" (1991) and "Spirits of Congo Square" (2000). The recordings deepened Harrison's commitment to maintaining the offshoot rituals, call and response chants and drumming as well as traditional jazz music alive for the next generation.
Donald has performed and recorded with an illustrious list of distinguished musicians in Jazz, R & B, Funk, Classical and more including Art Blakey, Roy Haynes, The Cookers, McCoy Tyner, Miles Davis, Lena Horne, Ron Carter, Billy Cobham, Eddie Palmieri, Jennifer Holiday, Dr. John, Guru's Jazzmatazz, McCoy Tyner, Dr. Lonnie Smith, Digable Planets, Notorious BIG, The Chicago Symphony Orchestra and The Louisiana Philharmonic Orchestra to name just a few.
As an actual evacuee/survivor of Hurricane Katrina, he had a prominent role in Spike Lee's HBO documentary "When the Levees Broke." He also appeared as himself and co-wrote the sound track for Academy Award winning director Jonathan Demme's feature film "Rachel's Getting Married" starring Anne Hathaway and Debra Winger. Aspects of Donald's life and music are chronicled with two characters in David Simon's ground breaking HBO series, Treme. He was also a character consultant and appeared as himself in eleven episodes.
Donald recorded "Quantum Leap" in 2012, which musicians and critics agree is a next step for jazz and is an amalgamation of his years of playing with jazz masters and his life's experiences. With quantum jazz, Donald has opened up new areas for time, harmony, and melody. The recording also melds cutting edge jazz with New Orleans funk, connecting the past with the present with jazz music that transcends boundaries.
Donald is also co-founder and artistic director for the Tipitina's Intern Program and founder of The New Jazz School where he along with a staff of his hand pick of seasoned veterans teach Jazz, Soul, Funk, theory, harmony, composition, and history to students ages 13 to 18. The Tipitina's Intern Program is a college preparatory and professional music training program for junior and senior high school students. The program at Tip's has garnered close to $10,000,000.00 in scholarships for it's graduates and placed many prominent young musicians amongst the professional ranks. Harrison taught and mentored the following musicians: trumpeter Christian Scott, hip-hop icon The Notorius B.I.G., trombonist/singer Trombone Shorty, guitarist Josh Connelly and saxophonists Louis Fouche, Chris Royal and Aaron Fletcher. His working groups have proven to be an incubator for jazz bandleaders such as trumpeter Christian Scott, guitarist Mark Whitfield, pianist Cyrus Chestnut and bassists Christian McBride and Esperanza Spaulding.
His awards include two of France's "Grand Prix du Disque", Switzerland's "The Ascona Award", Japan's Swing Journal "Alto Saxophonist of the Year," The Jazz Journalist Association's "A List Award," 2012 New Orleans Civic Award, 2007 Jazziz Magazine's "Person of the Year," the Big Easy Music Awards "Ambassador of Music" and is a Down Beat Magazine Alto Saxophone Poll Winner. He was also a 2006 Resident at William and Mary College, a 1995 "Meet The Composer" recipient and has also earned a 2012 Grammy nomination.
Website: http://donaldharrison.com/